Archive for the 'Other Reds' Category
Tuesday, November 14th, 2017
Check out the latest from Stag Hollow's winemaker/vineyardist, Mark Huff, on the 2017 vintage, holiday events and new wines at
Friday, November 18th, 2016
In this issue (told with Mark Huff's engaging style):
◊Thanksgiving-holiday season tastings.
◊2016 Vintage run-down (or how to survive an astoundingly early harvest).
◊2014 Pinot Noir futures are ready for pick up!
◊Compare cool versus hot vintages at our holiday tastings.
◊New releases – 2014 vintage.
◊Last call for 2015 Tempranillo futures.
◊Holiday specials.
◊Vintage chart – what must be drunk or held.
Here it is, click this link: 2016 Legends of Stag Hollow.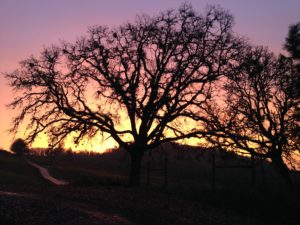 Monday, November 16th, 2015
Just out and heading to your mailbox – Legends of Stag Hollow 2015 Thanksgiving newsletter – click the link below to view.
Included:
Wines you will taste at the holiday tastings, when and where, futures, new releases, cellar selection, and mini-vertical.
Winemaker Mark Huff's look at effect of climate on a decade of vintages.
Stag Hollow's vintage drinking chart – Mark's estimate of when to drink each vintage back to 1994!
And a story about wildlife (the animal type) in our vineyard.