Our Tasting Room is open to by appointment only. Please call us at 503-662-5609, preferably a few days in advance. Our tastings are provided by the owners and often with the winemaker, for personalized attention. There are several other ways to taste our wines:
---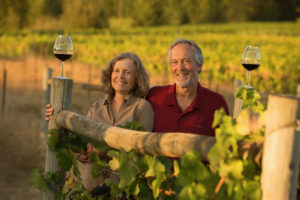 ---
UPCOMING EVENTS

ITALY in the VALLEY
Join Stag Hollow and 12 other wineries to celebrate Oregon Italian varietal wines.
When: August 19, Sunday, 1 – 5 PM.
Where: Cana's Feast Winery, 750 W Lincoln St., Carlton, OR 97111
Get your TICKETS now! Same great price – $35.
Sumptuous additions available for purchase: light meal – Olympia Provisions. Gelato by Pinolo Gelateria. Oregon olive oil – Oregon Olive Mill at Red Ridge Farm. Bocce ball. Just plain relaxing in the sun or shade, depending on your preference, while tasting great wines.
---
OREGON WINE COUNTRY HALF MARATHON
Run a race through Oregon wine country and revel at your accomplishment with a toast of great Oregon wine. Stag Hollow's winemaker and vigneron, Mark Huff, is prepping for the race. After this substantial exercise event, Mark and Jill pour wine for the participants at the race end, along with other Willamette Valley wineries.
When: September 2, 2018, Sunday. Race starts at Stoller Winery at 7 AM. Wine event for participants and their guests only starts at 9:30 AM.
Where: End of race and wine tasting: Carlton, Oregon 97111.
To sign up, check out Destination Races.
---
LABOR DAY WEEKEND OPENER
Stag Hollow will be open for tasting and sales, Saturday & Sunday, September 1 & 2, noon – 4 PM. More details to come.
---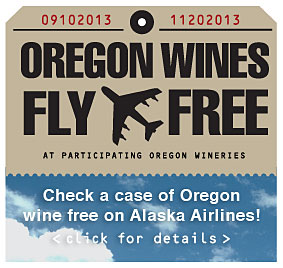 OREGON WINES FLY FREE!
Posted May 7, 2017
The program continues! When you visit Stag Hollow or other participating Oregon tasting rooms, simply show your Alaska Airlines inbound boarding pass and taste wine for free! The case of wine you take home checks free as baggage on your return Alaska Airlines flight. Valid from year-round, on domestic flights departing one of four Oregon airports, and Walla Walla.
Please see OregonWinesFlyFree.org or click on the icon to the left.
---
Please subscribe to our newsletter and follow us on Facebook, Twitter and Instagram for information on events and activities at Stag Hollow.